Southeast Asia's Transition to Renewable Energy is rapidly evolving. In the world where energy demand continues to surge, Southeast Asia stands at the forefront of this transformation. Boasting some of the world's fastest-growing economies, this region recognizes the critical need to safeguard its energy security while addressing the growing energy demands. However, it is also grappling with a heavy reliance on fossil fuels. In this article, we will delve into Southeast Asia's journey towards renewable energy and the measures being taken to ensure energy security.
The Growing Energy Demand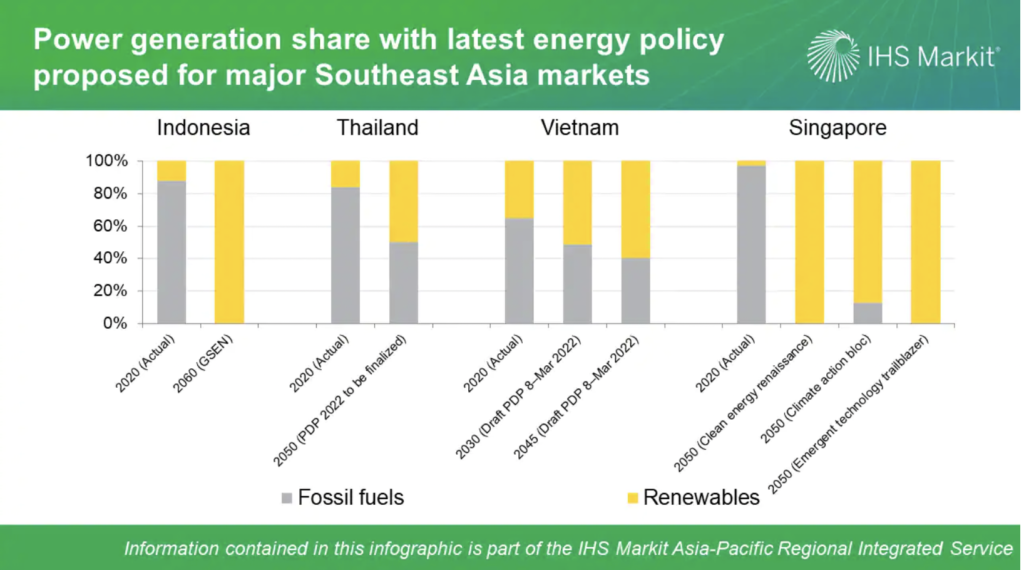 Over the past two decades, Southeast Asia has experienced an average annual increase in energy demand of 3%. This trend is projected to persist until 2030, according to the International Energy Agency. Unfortunately, fossil fuels still dominate the energy landscape, constituting about 83% of the energy mix in 2020. In contrast, renewables only accounted for 14.2% during the same period, as reported by the ASEAN Center for Energy. Furthermore, by 2050, oil, natural gas, and coal are expected to make up 88% of the total primary energy supply. This heavy reliance on fossil fuels exposes the region to energy price shocks and supply constraints, increasing vulnerability.
Vulnerability to Global Events in Southeast Asia's Transition to Renewable Energy
Global events, such as pandemics and geopolitical conflicts, have led to spikes in energy prices. For instance, benchmark oil prices reached their highest levels in over a decade in March of the previous year, and recent Middle East tensions have further exacerbated the situation. Zulfikar Yurnaidi, the Manager of Energy Modeling and Policy Planning at the ASEAN Center for Energy, points out that Southeast Asia's fiscal capacity differs from Europe, making it challenging to secure its own gas supply.
In particular, the gas and coal power sectors in Southeast Asia have expanded to meet the growing energy demand, making these markets susceptible to volatile fossil fuel prices on the international stage. This heightened dependence on fossil fuels threatens the region's energy security.
The Imperative of Transitioning to Clean Energy
If Southeast Asian nations do not make significant discoveries or invest in production infrastructure, they are likely to become net importers of natural gas by 2025 and coal by 2039. This would lead to increased fossil fuel prices and additional burdens on consumers. To avert this crisis, the region must diversify its energy sources to ensure economic growth and energy security.
Fortunately, most Southeast Asian countries are taking proactive steps towards adopting clean energy. These countries have set renewable energy targets and formulated low-carbon energy transition plans, indicating a collective eagerness to transition towards sustainability.
Initiatives Across Southeast Asia's Transition to Renewable Energy
Let's explore the initiatives taken by some key nations in Southeast Asia to embrace renewable energy:
Malaysia
Malaysia launched its National Energy Transition Roadmap in July. This roadmap seeks to increase renewable energy capacity and reduce dependence on natural gas imports. Notably, the plan includes the construction of a one-gigawatt solar photovoltaic plant, which would be Southeast Asia's largest. Solar power has consistently shown promise in Malaysia, with impressive growth rates in installed capacity.
Vietnam
Vietnam announced its Power Development Plan 8, emphasizing the growth of wind and gas energy while decreasing reliance on coal. Wind and solar energy are expected to comprise at least 31% of the nation's energy needs by 2030. The plan also mandates the conversion of all coal plants to alternative fuels or their cessation of operations by 2050.
Singapore
Singapore's Green Plan 2023 focuses on increased solar energy deployment. The plan aims to reach a capacity of at least 2 gigawatts of solar energy by 2030, which will account for about 3% of the projected electricity demand. Despite geographical constraints, Singapore plans to implement measures such as rooftop solar panels and electricity and hydrogen imports to reduce reliance on fossil fuels.
The Philippines
The Philippines have made significant strides in attracting foreign investment in renewable energy. Changes in ownership requirements have allowed foreign investors to fully own projects related to solar, wind, hydro, or ocean energy resources. This opens up opportunities for offshore wind power projects, which could contribute substantially to the country's electricity supply.
Indonesia
Indonesia has relaxed foreign ownership restrictions in the power sector, allowing 100% foreign ownership of power transmission, distribution, and generation projects. This move is expected to attract more foreign investment and accelerate renewable energy projects in the region.
Conclusion
Southeast Asia's transition to renewable energy is driven by the need for energy security, resilience, and economic growth. As the region grapples with volatile fossil fuel prices, it is clear that these countries are taking significant steps to embrace clean energy and diversify their energy sources.
---
FAQs
1. Why is Southeast Asia transitioning to renewable energy?
Southeast Asia is transitioning to renewable energy to enhance energy security, reduce vulnerability to volatile fossil fuel prices, and promote economic growth.
2. What is the current energy mix in Southeast Asia?
In 2020, fossil fuels accounted for about 83% of the energy mix, while renewables comprised only 14.2%.
3. What challenges does Southeast Asia face in its transition to renewable energy?
One major challenge is the heavy reliance on fossil fuels, which makes the region vulnerable to energy price shocks and supply constraints.
4. How are countries like Malaysia and Vietnam promoting renewable energy?
Malaysia is constructing a one-gigawatt solar photovoltaic plant, while Vietnam is aiming to have wind and solar energy account for at least 31% of its energy needs by 2030.
5. How can foreign investment contribute to Southeast Asia's renewable energy sector?
Foreign investment can bring knowledge and experience to the table, helping renewable energy projects move from pre-development to later stages, which involve higher expenditure.